contact us via email at modernization@qtech.ca

In assisting clients with their IT application needs, we have noticed that many of our clients are facing the need to add new capabilities to their aging applications. Many of these clients are challenged in their ability to maintain, let alone enhance those applications due to the scarcity of skilled legacy resources and vendor support for the now-obsolete development environments.

This realization has driven us to search out external competencies to overcome such obstacles in order to better assist our clients to meet their ever evolving IT needs. We have partnered with leading vendors for certain solutions that allow the client flexibility in choosing either either .Net or Java for the architecture of the modernized solution, and to design a target architecture that best meets their current and future requirements.

We work closely with our clients to plan and launch a portfolio transition initiative, and to conduct the individual application modernization projects with our modernization partners. We act on behalf of our client to ensure that the modernized application meets or exceeds their expectations of our client.

The modernization solution leverages the tooling and experience developed by our partners over 100+ modernization projects totalling over 100+ million lines of code transformed. It is unique in that it can be applied to virtually any legacy client / server application and can produce either JAVA or .NET modernized application. Further, the resulting application contains only native, maintainable code, no external dependencies other than on the basic JAVA or .NET technology.

The modernization process engages the customer through all phases of the modernization project, ensuring that the resulting application encapsulates the desired functionality and conforms to the customer's target architecture. We mitigate project risks to the customer through a fixed price engagement with guaranteed results, and deliver:
Improved System Reliability, Availability and Serviceability
Increased Flexibility
Reduced Total Cost of Ownership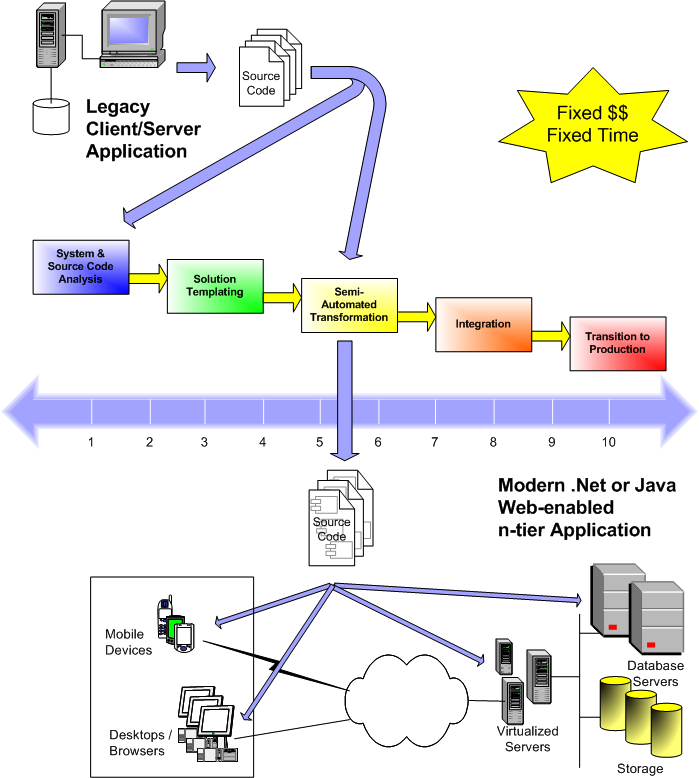 Our partners' modernization solutions work hand in hand with QTECH's traditional requirements analysis, technical architecture, development and integration services to overcome the challenges presented by legacy applications to find the most efficient, least risky and most cost effective path to satisfying the business and IT needs of our clients.
Here's why we have chosen our modernization partner:
Reduced risk, cost and time to deliver
Support for industry standard and client architectures
Architectural re-engineering to n-Tier
Ability to comply with a customer's specific code, architecture and framework standards
Natural Java/.NET code for easy maintenance
Leading software modernization tools
Expertise in source code mining
Over 100 successful legacy C/S modernizations (100+ million lines of code)
Success Stories
We have many dramatic success stories that we and our modernization partners have been able to achieve over the past few years. We invite you to contact us so we can provide you with success stories that relate specifically to your own environment.